Strip wires quick & easy!
SCALE SCALE: 
When wiring and breaking, you can measure the length you need and measure accurately.
BLADE COMBINATION: 
With upper and lower blades, with screw fastening, surface anti-rust treatment, model-to-port digital cleaning, convenient and practical.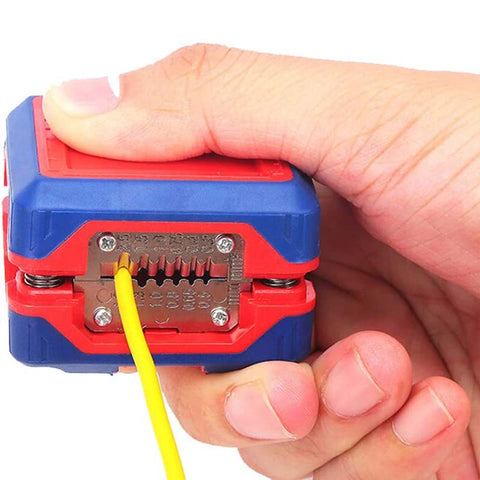 STORAGE FUNCTION: 
The processed wire shell can be stored in the box, and it can be dumped when it is full. It is simple and convenient.
SPRING DESIGN: 
Four-corner return spring design, easy to squeeze and rebound, saving effort.
POWERFUL: 
Suitable for multi-size harness trimming and stripping, to solve the problem that it is difficult to use multiple models in life.
Specifications:
Color: Red and Blue inlay
Size: 

52 x 52 x 42 mm / 2.05 x 2.05 x 1.65 in

Stripping Specification:

4.1mm/16mm2; 3.6mm/ 10mm2; 2.6mm/ 6mm2; 2.0mm/ 4mm2; 3mm/ 2.5mm2; 3mm/ 1.5mm2; 1.6mm/ 2.5mm2;1.3 mm/ 1.5mm2; 1.0mm/ 1.0mm2; 0.8mm/ 0.75mm2; 0.65mm/ 0.4mm2; 0.5mm/ 0.2mm2; RG6; RG59
Package Includes:
1 x Multi-Function Wire Stripper Box