DO YOU WANT TO ENJOY COOL, CLEAN AIR, ANYWHERE IN SUMMER?

Try our portable compact personal air cooler. It pulls warm air from the room through its evaporative water filter to fill any space with cool, humidifies, and clean comfortable air!
You can add pure water, a small ice cube. in the water tank, plug it into any standard wall outlet, and enjoy! It runs 3-5 hours per fill,
Unlike traditional desktop and central air conditioners, it is easy to carry and can be used in closed places such as offices, cars, and basements. This mini air conditioner is both space efficient and economical. It is a must-have tool for hot summers.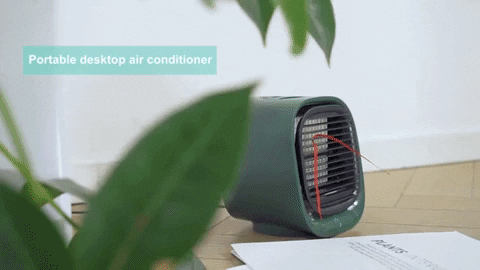 PRODUCT FEATURES:
Efficiently Cooling Down: Fast cooling down the hot air around you, cooler than the fan and more energy-saving than air conditioner! This Air Personal Space Conditioner allows you to add ice water/ice to the tank to accelerate the cooling speed, the hot air around you will be cooled 3-10°C down.

Three Wind Speeds: Three-speed evaporative air cooler could meet your different needs and be applied on various occasions. You could enjoy low speed when you are in sleeping and medium speed in relaxing, as well as high speed in scorching summer.
Humidification & Refrigeration & Air Purification: The Summer discomfort, half comes from the high temperature, and half comes from the drying of the air. Our Portable air cooler will produce air with high humidity content, moisturize the skin, feel cool, and the built-in air filtration will continue to purify. Indoor air, increasing indoor oxygen, and negative ion content. Especially good for sleeping, and people with respiratory sensitivities.

Compact and Portable:
The device portable
 

size occupies a minimum of the place and consumes not enough energy.
 Having 
USB charging port,
 you can place it in your kitchen, dorm, bedroom,hotel,restaurant,office, or anywhere you like. Moreover, 
you could also take it with you when outdoor in the summer hot day.
USB AIR CONDITIONER FAN: True wireless and portable design, small size, which won't take up a lot of space and can easily carry to anywhere. In summer, the best choice for camping and you can easily carry it out, very suitable for homes, offices, outdoor picnics, etc
PORTABLE USB PORT AIR COOLER: The ideal size of this USB mini air conditioner is 6.6 x 6.3 x 5.9 inches and weighs only 1.9 pounds. Easy to carry. The small air conditioner can be used in combination with adapters, mobile power supplies, computers, car chargers, etc. In summer, the best choice for camping and you can easily carry it out, great for home, work places, outdoor picnics, etc.
MIST SPRAYER FUNCTION & 3 SPEED WIND MODE: The air cooler features with 3 wind modes (Low/Med/High) . Personal air conditioner cooler, fan, air humidifier, 3 in one multifunction design take you away from the hot summer, enjoy your cooling summer. This desktop air cooler can be place at any desk, coffee table or nightstand.
FAST COOLING DOWN: This evaporative air conditioner adopt ultrasonic hi-tech to atomize water into cold nano-mist. It can provides you chilly wave of coolness like forest breeze, turning roasting temps to pleasant 75℉. 2-Gear Mist function satisfy your need from instant-cold to constant-cooling, soothing every inch of your exposed hot skin with the nano cold mist.
ENERGY SAVING AND LOW NOISE: The indoor air conditioner can work effectively at low noise levels, and there are 3 wind speeds to choose from. The powerful power supply and conversion circuit can minimize losses, save you a lot of electricity bills and protect the environment. this portable air cooler won't take up much space and can easily carry to anywhere. It's your summer life's best partner and the best gift for Fathers' Day and Mothers' day.
UPGRADED FILTER AND WATER TANK: This room air conditioner uses a cotton filter to better separate bacteria and purifies the air. The pull-out design facilitates quick removal and cleaning of the filter. The top water tank increases the convenience of water filling and reduces water leakage. The large-capacity water tank can continuously use the cooling function for 8 hours
COOL EXPERIENCE: Personal air cooler, fan Circulate air to keep the room cool and make you more comfortable in every corner of the room.Cools for better air, refrigeration design take you away from the hot summer, enjoy your cooling summer.