Easily fix any scratches, swirls, or scuff marks with Magic Scratch-Eraser Kit!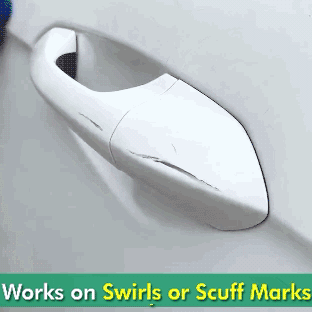 FEATURES
Quickly and Safely Removes all Scratches and Stains: It consists of a three-stage system of sanding, it is designed to remove some defects to your car in just a minute. No Hard Scrubbing Required

Innovative Nano Material Powder: The use of nano special micro-dissolving technology, can break down scratches, and paint molecules.

Deoxidation Layer: It gets in deeper than any fabric or brushes; capable of bringing all residue and scuff to the surface and wiping it away in an instant. 

Helps Protect Car Paint: Avoid costly repaint. works on a vehicle of any color.

Easy to Use: no need for paint cleaner or polisher, simply wipe the cloth on the surface to remove the light scratches or scrapes.

Reusable Cloth 10-15 Times: Waterproof scratch cloth

Multipurpose Use: proven to work on appliances, kitchen grease, calcification, and grime, also on light furniture.
SPECIFICATIONS
Material: Nano-Polyester Fiber
Color: Gray
Size: 7.9 x 3.9 x 0.4 in
PACKAGE INCLUDES
1 x Magic Scratch-Eraser Kit