Make riveting process faster and precise.
This RIVET NUT GUN is lightweight and small in size, making it easy to carry.Perfect for Factory Working, DIY Household, Woodworking and more. Our Riveting Tool is efficient and durable when contrast with the traditional one.
You can complete drilling, pulling rivets and screwing, in seconds!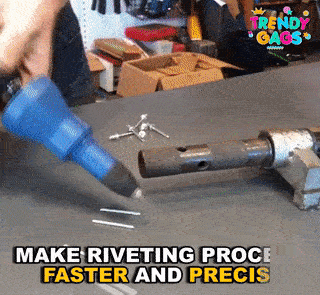 Features:
This riveting adapter can turn your cordless drill into a handy riveting tool, quite practical.
Made of high-quality metal and plastic, it is durable and lightweight.
There are three spare rivet nozzles that can be used for different sizes of nuts.
It is easy to use, simply install it onto your cordless drill and start your riveting job.
A horde of rivets function pulls a good effect that it does not waste a rivet.
Small size and easy to carry, more efficient.
Specifications:
Nozzle Size: 3/32", 1/8", 5/32" and 3/16"
MAX RPM: 1000 RPM
Min Torque Strength: 15 N.m
Aluminum: 2.4 mm - 4.8 mm Steel: 2.4 mm-4.0 mm
Includes:

1 x Fast Rivet Guns Adapter